All references in this article refer to Swiss law, and always to the Ordinance on Capital Adequacy (OFR – 952.03), unless otherwise stated. This piece was first written in French, so all abbreviation are from French-language federal standards. Acronym of legislation pieces are not standardized, that's why the federal number is reported.
Late 2018, the Swiss Financial Market Supervisory Authority FINMA (in the Swiss Confederation, the regulator is unique for the financial and banking sector, unlike more common Twin Tower model) had stated that it was introducing a more favourable scheme for non-systemic banks within the meaning of the Banking Act (and only banks and securities houses, under Article 1a LB). In 2020, after a two-year test phase, the introduction of two new, very binding standards (the Financial Services Act LSFin and the Financial Institutions Act LEFin), and the update of the FINMA circulars on 1 January 2020, the small bank regime is definitively in place. Particularly liquid and well-capitalised small banks are exempted from certain prudential regulations.
This increase in regulation, far from protecting the client and effectively serving the market, seems in practice very prejudicial to the readability and quality of the law. The small bank regime merely loosens controls for non-systemic banks, which in the end is only a partial return on the increase in control standards, which often are unnecessary. FINMA is trying to present the project as a way of reducing the costs for companies. I believe that this is indeed the initial aim, but that in de facto terms this reduction will be minimal.
But what does this "small bank" regime consist of under Swiss law?
The small bank scheme
The small bank scheme "aims to make regulation and supervision more efficient for small, particularly liquid and well-capitalised institutions" (FINMA definition).
Compared to the general banking scheme, the banks and financial institutions benefiting from this derogation are exempted from certain prudential requirements in view of their particularly favourable financial ratios. Participating banks are better capitalised than the average and have high liquidity. On the other hand, they can benefit from a less complex regulatory regime under the Capital Ordinance (OFR 952.03), for example by waiving the calculation of risk-weighted assets. In addition, there are various other qualitative simplifications as a result of the updating of certain FINMA circulars.
This scheme is complementary to the already existing "adapted" scheme under Article 17, which already allowed private agreements in principle with FINMA (a kind of private ruling), especially in the field of auditing, allowing for a reduction in the field of controls.
1.1 – Entry requirements
The entry criteria for the small bank scheme as well as the planned relaxations in the area of capital requirements are regulated in the Capital Ordinance (OFR 952.03), specifically in Chapter 1a "Simplified application for particularly liquid and well-capitalised banks in categories 4 and 5" . These provisions should be understood in conjunction with the provisions of the Banking Act, especially with regard to external auditing, and the Liquidity Ordinance, to see how these standards differ from ordinary law.
Above all, the scheme applies, as the title of the scheme itself states, only to Tier 4 and Tier 5 banks, with reference to the Basel Regulations and Annex 3 of the Banking Ordinance (OB 952.02). These are small institutions: categories 4 and 5 cover banks with less than CHF 15 billion of total balance sheet assets, CHF 20 billion of assets under management, CHF 500 million of preferred assets and CHF 50 million of minimum capital. While the sums may seem huge to us, common folks, they are largely liabilities and outstanding assets.
The criteria in Article 47b-1 must be met in order for a bank or securities holding firm (whether at the group level or at individual institutions) to benefit from the exemption, and these criteria are :
Simplified leverage ratio of at least 8% (47b-2)
Liquidity coverage ratio [12-month LCR] of at least 110% (47b-3)
Refinancing rate of at least 100% (47b-4)
FINMA may also reject the application for simplifications in several cases, as set out in Article 47c:
if a letter of notification of an infringement has been sent ( art. 47 c-b OFR Part I, "a procedure pursuant to Art. 30 of the Financial Market Supervision Act of 22 June 2007 (LFINMA)" – reference to Art. 30 LFINMA "If there are indications that supervisory law has been infringed and FINMA initiates proceedings, it shall notify the parties.")
or, more generally, proceedings have been brought against institutions in the following areas ( art.47 c-b Part II OFR "if the bank has not implemented measures to restore legal order in accordance with Art. 31 FINMASA in the following areas:" – a reference to Art. 31 FINMASA "If a regulated entity violates this Act or one of the financial market acts, or if other irregularities are detected, FINMA shall ensure that legal order is restored") in the areas listed in points 1 to 4 of Art. 47c-b. :
As can be seen, the scheme is particularly restrictive. As with all banking and financial law, the regulator's power is unlimited.
1.2 Regulatory Substitution
The interest of the derogatory regime for small banks must of course be understood in the particular structure of Swiss law, i.e. the existence of only 2 (or 3, depending on the doctrines) categories of institutions operating in the banking and financial field; and that is to say companies whose activity is based on the Banking Act authorisation (LB Article 1a and 1b), and companies whose activity is based on the Financial Market Infrastructure Act (LIMF 958.1). Under Swiss law, unlike in the USA and Europe, there are no intermediary structures (with the exception, according to some, of the special case of 1b Banking Act (LB) authorisation and a few minor exceptions), which have less supervisory regulation, as opposed to a lesser capacity for action. The interest is of course to respond to international competition by allowing small non-systemic operators to reduce their operating costs (and therefore their costs).
To this end, Article 47a states that: "Banks in categories 4 and 5 according to Annex 3 of the OB1 may apply to FINMA for exemption from compliance with the provisions of Articles 41 to 46 regarding the required own funds".
This exemption is not necessarily very indicative of the substitution of legislation that is taking place, since the provisions referred to in Article 47a are complementary to other capital adequacy provisions, and the alternative regime for small banks will rather complement these other already existing obligations, rather than replace the exempted rules.
2.1 Effective regulation lightening
Institutions participating in the small bank scheme must comply with simplified requirements for the calculation of capital requirements and liquidity as well as simplified qualitative requirements in the FINMA circulars. According to FINMA itself, the actual reductions are as follows:
Removal of requirements on the quality and quantity of own funds required, as well as the abolition of the calculation of risk weighted assets (RWA), the capital buffer and the sector-specific counter-cyclical buffer (AZP).
Waiver of NSFR calculation and compliance (liquidity)
Qualitative relief in FINMA circulars
Removal of specific requirements for the processing of electronic customer data
Reduced publication obligations
Reduced requirements for risk control tasks
Reduced pace of comprehensive risk assessment by Internal Audit
Removal of specific requirements in the area of outsourcing
FINMA declares Circulars 18/3 "Outsourcing – Banks and Insurers", 08/21 "Operational Risks – Banks", 17/1 "Corporate Governance – Banks", 16/1 "Disclosure – Banks", 19/1 "Risk Allocation – Banks", 17/7 "Credit Risks – Banks", 11/2 "Capital Framework and Capital Planning – Banks" and 15/2 "Liquidity Risk – Banks" to be revised on an ad hoc basis. (source: FINMA website).
While in theory these normative reliefs should "enable institutions participating in the small bank regime to make direct and indirect savings", it is questionable in practice whether these reliefs lead to a reduction in related costs.
2.2 A fundamentally little different audit
Revision is the Swiss version of the American Audit.
One of the specific features (in my opinion very positive from all points of view) of Swiss law is the mandatory audit by an external auditor (the equivalent of a French auditor or an Italian commercialista) for most registered companies, so that, for example, the name or company name of the auditor must be included in the company's articles of association (Code of Obligations 626E-6). As a counter-example, the existence of an external audit only becomes mandatory under French general company law above EUR 4 million (French Decree No. 2019-514 of 24 May 2019). Moreover, this control is confused with prudential control – and this is another peculiarity of Swiss law – since the auditors are also responsible for the control and audit of banking companies (Article 18 Banking Law – and especially Circular 13/3 FINMA), with FINMA intervening only "occasionally", within the meaning of Article 23 Banking Law LB.
If the praxis is obviously different from the letter of the law, this revision by an external agent and then by the regulatory power structures the modality of revision. Revision must be automated and standardised as much as possible, and above all, computerised. The auditor therefore already carries out an audit of all the assets, then draws conclusions and validates compliance with the various financial ratios required. By modifying the required ratios, but not the auditing modality per se, one may wonder what real savings small banks are making. After all, it is a matter of changing two lines of code in well-marked databases. These well-capitalized banks, in order to maintain this status, will not be able to invest the money that serves as a reserve fund.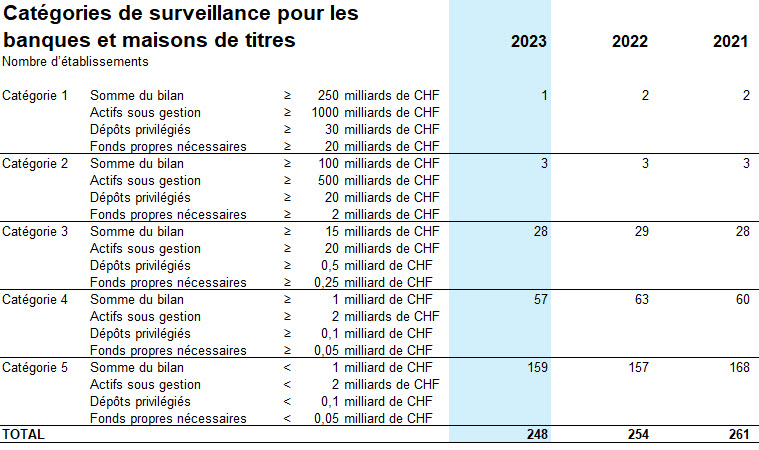 A recent FINMA press release informs us that 64 of the 256 banks in categories 4 and 5 have signed up to the new system, a minority – The small bank regime is therefore more of a niche market for banks with specific customer groups than a regime applicable to all the lower categories. It is well known that both financial market regulation and FINMA's risk-based supervision are designed in a proportionate manner. This means that regulation and supervision take account of differences in size, business models and risks between institutions. Article 17 of the adapted regime already provided for this possibility. From a practical point of view and from the point of view of readability of the law, this development therefore seems to me to be damaging.
This post is also available in: Français (French)